NeedleView Arthroscope Suite for Metron
Biovision's next generation NeedleView Arthroscope
Micro-Invasive Arthroscopy for Diagnostics and Therapeutics
Suite offers veterinarians a visualization tool the size of an 18-gauge needle (1.2mm, 50% smaller than a standard arthroscope).  Perform diagnostic and therapeutic procedures that bring a value-added element to your practice.  The system combines
essential features into a single compact and ultra-portable, all-digital visualization platform.  The system integrates seamlessly with Metron™ software so you can have all of your images in one organized location.
---
•  Small Animal – Elbow l Hip l Stifle l Shoulder
•  Large Animal – Carpus l Coffin l Fetlock l Navicular Bursa l Stifle l Cervical Vertebrae l Hock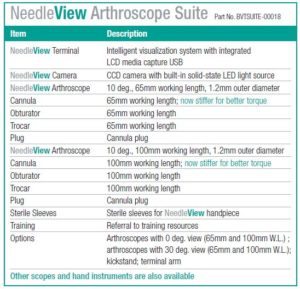 Veterinarians around the world are researching additional diagnostic applications and regenerative procedures.