Deep Learning and AI are used to determine TPLO Measurements in Vetel's Exclusive Metron Software
Sara Esposito
San Luis Obispo, California – Vetel Diagnostics and the Vetel group of companies unveils its latest software update. Tibial Plateau Leveling Osteotomy (TPLO) automated measurements and reporting.
This is the latest tool available for Vetel's Metron™ software platform. For over ten years Vetel has been a leader in developing these "superhuman" technologies for veterinary software.
TPLO measurements and reporting adds to Vetel's growing list of existing automated measurements offered by Metron™ with Intellect Module. It joins the Norberg Hip Angle, Vertebral Heart Score, and multiple measurement utilities of the Equine Foot.
The new automated TPLO reporting provides the same level of efficiency, precision, and accuracy that veterinarians using Metron™ have come to expect.
Vetel understands the importance of TPLO measurements regarding canine cruciate ligament disease (CCLD). With one click, Metron™ with Intellect Module accurately recognizes, corrects magnification artifacts, and measures the medial tibial plateau line and the functional tibial axis line to calculate the tibial plateau angle. This provides valuable information about the degree of the tibial slope in the patient.
This TPLO metric is usually calculated by the attending veterinarian. This sacrifices their valuable time and thus proves it difficult to implement as a routine procedure in a busy veterinary practice. Using Metron™ with the Intellect Module, the clinician will promptly receive superior diagnostic results identifying patients with pre-disposed genetic conditions or chronic injuries. Things such as these may have otherwise gone undiagnosed.
See for yourself an example of Metron™ with Intellect Module's TPLO measurement below.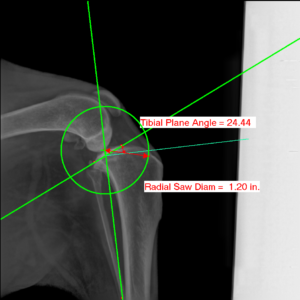 To learn more about Metron™ with Intellect and its automation process, visit the Vetel website..
About Vetel Diagnostics
Vetel maintains a perpetual drive to harness the digital world for the veterinarian. Vetel combines the state-of-the-art Metron AI-enhanced imaging technology, premium imaging hardware, and unsurpassed customer support to offer simplicity, reliability, and precision to the veterinary practitioner. For full product offerings visit the Vetel product page.