Vetel Partners with Biovision Veterinary Endoscopy
Sara Esposito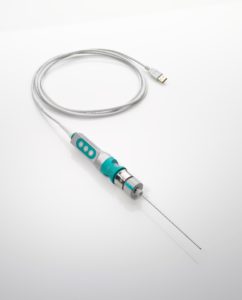 San Luis Obispo, California – Leaders in innovation and diagnostic excellence, Vetel Diagnostics and the Vetel Group of Companies announce their partnership with Biovision Veterinary Endoscopy LLC, inventors of the NeedleView™ micro-arthroscopy system.
Vetel has been an industry innovator for 20 years, selling diagnostic modalities such as digital radiography, ultrasound, thermal imaging, and endoscopy products. Vetel's Metron™ software allows for the entirety of a veterinarian's imaging library to be easily accessed via a centralized PACS database. The inclusion of Biovision's NeedleView™ arthroscopes and laparoscopes allows for Metron™ to be an all-inclusive, one-stop-shop for image acquisition, processing, and storage.
"We are thrilled with the addition of the Biovision line to our product offering," said Dr. James Waldsmith, president of Vetel. "The integration brings our Metron™ Users a fantastic value in their ability to grow their practices in adding arthroscopic, laparoscopic and sinoscopy services."
John Small, CEO of Biovision Veterinary Endoscopy LLC, is also looking forward to the new opportunities that customers will have with this development. "We are excited to enable Vetel's Metron™ software users the ability to add our '18-gauge' NeedleView™ scope technology to their toolset to perform micro-arthroscopic and sinoscopic diagnostic procedures along with some biologic visual injections. This value-added element will definitely enhance [Vetel's] service offering."
Veterinarians need quality products that are efficient in operation and seamlessly integrate into their practice. That is why Vetel and Biovision are working with each other to provide technological solutions, reaching above and beyond the projected needs of today's veterinarians.
About Vetel Diagnostics and Biovision Veterinary Endoscopy LLC
Born from the need to bring quality and value to veterinary diagnostics, Vetel maintains a perpetual drive to harness the digital world for the veterinarian. Combining the state of the art in imaging technology with the Metron™ AI-enhanced software platform, and dedicated to providing unsurpassed customer support, Vetel delivers simplicity, reliability, and precision to the daily lives of the veterinary practitioner. For full product offering, click here.
Biovision Veterinary Endoscopy LLC provides veterinary practitioners with quality, innovative products that are cost-effective and enable better patient care. Their product line is composed of technologically advanced, ultra-portable systems and accessories tailored for cutting-edge visualization applications. For more information about Biovision, visit its website.