Partnership between Vetel Diagnostics and Summus Laser brings effective therapeutic laser therapy to more veterinarians
Sara Esposito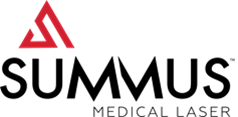 San Luis Obispo, California – Vetel Diagnostics and the Vetel group of companies firmly believes in equipping veterinarians with the most advanced technology available to medical professionals and their patients. Vetel recently partnered with Summus Laser, providers of therapeutic laser technology for the veterinary market to help thousands of animals regain a higher quality of life.
Summus Laser has been the preferred provider of therapeutic lasers internationally for fifteen years. Its veterinary lines include two sophisticated models; the P4 and H1 series. Therapeutic lasers have multiple clinical applications, including treatment of dermatologic symptoms, soft tissue damage, musculoskeletal injury, and post-surgical incisions. Veterinary therapeutic laser application has been shown to improve wound healing, pain, inflammation, and range of motion in animals being treated by a veterinarian.
Additionally, Summus Laser has developed the first smart laser in its veterinary Platinum Series. It's the most advanced Class IV laser on the market, delivering user tools and metrics to the laser interface, aiding the user in achieving further success with veterinary laser therapy.
Vetel's CEO Dr. James Waldsmith is enthusiastic to offer some of the best-in-class lasers to veterinarians with this partnership, "We are very pleased to establish this affiliation with Summus.  It reflects our continued commitment to providing therapeutic solutions to the conditions our diagnostic technology identifies. As the many benefits of laser therapy continue to be revealed, we could not be happier that to represent the Summus line of laser products."
Richard Albright, the CEO of Summus Laser, looks forward to a successful future working with Vetel, "Summus Medical Laser, as the leader in therapy laser technology, is proud to be working with Vetel Diagnostics and their group of companies to offer leading-edge technology to the veterinarian. Recognizing our mutual commitment to providing the highest level of service, user experience and continuous innovation in our products, we see this partnership as wholly congruent."
About Summus Laser and Vetel Diagnostics
Summus Laser for 15 years has been dedicated to offering the most advanced technologies to their clients, with a never-ending dedication to innovation. Summus Class IV lasers are scientifically proven to reduce pain and inflammation, as well as improve healing within the body. For more about Summus Laser, visit their website.
Born from the need to bring quality and value to veterinary diagnostics, Vetel maintains a perpetual drive to harness the digital world for the veterinarian. Combining the state of the art in imaging technology with the Metron™ AI-enhanced software platform, and dedicated to providing unsurpassed customer support, Vetel delivers simplicity, reliability, and precision to the daily lives of the veterinary practitioner. For full product offerings, click here.