iScan 2 Veterinary Ultrasound Series
iScan 2 Multi Ultrasound
The scanning quality is ensured by a hi-tech processor which enables the system to use the latest image processing algorithms.
LuciD™ is a technology that reduces the noise and increases the contrast, sharpness and tissue differentiation. It makes the image clear and easier to interpret.
Large, 7"-inch LCD screen with wide viewing angles ensures comfortable work. We know that you often face difficult conditions. That is why we rugged the screen to make it less prone to damage.
A powerful battery provides up to 7 hours of non-stop operation. In addition, you can turn off the screen to save power without shutting the scanner down. And the included suspenders will not let you get tired for the entire day.
Rugged casing makes the iScan 2 MULTI durable. The active ventilation system implemented in the casing ensures good operation parameters regardless of heat or humidity. The components used in the design gave the weight of the scanner with the battery of just 2060g.
The system includes:
DRAMINSKI iScan2 MULTI ultrasound scanner
Ultrasound probe*
External battery
Battery charger with 230V charging cable
USB storage adapter
Suspenders
Transport case
User guide (USB)
WIDE RANGE OF AVAILABLE PROBES
Linear rectal probe – for examination of reproductive system, confirmation of pregnancy and determination of sex of foetus — horse and cattle. With the extension, it can be used for rectal examination of sheep and alpacas — ovary diagnostics, pregnancy confirmation and monitoring. It can be used for calf lung examination.
Abdominal linear probe – examination of horse tendons, eyeball. It can be used for examination of exotic animals and fish.
Convex rectal probe – (rectal) examination of cattle reproductive system, small ruminants and pig (through abdomen). Horse pelvis diagnostics.
Convex abdominal probe — pregnancy confirmation in small ruminants and sows, lung examination in cattle and horses, examination of umbilical region in calves and foals.
OPU – aspiration of oocytes from ovarian follicles in cattle. Drainage of fluid from ovarian cysts in horses.
Backfat probe — measurement of backfat thickness and lonigissimus dorsi muscle area of cattle and pig meat breeds.
And many more…
---
iScan 2 Ultrasound – Linear Rectal or Convex Rectal System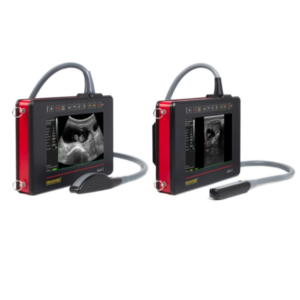 Light ultrasound scanner with efficient battery and large display. With its advanced technology, iScan2 provides precise diagnostics for large animals!
A linear rectal probe is a solution for veterinary professionals specialising in equine and bovine reproduction. It also a great imager for basic exams of the tendons, eye globe and body condition of an animal.
A convex rectal probe is dedicated to rectal examinations of horses and cattle and abdominal imaging in small ruminants and pigs. It is used to examine the reproductive tract, lungs and abdominal organs.
Ultrasound diagnostics of the ovaries in mares and cows require a precise ultrasound scanner. Many factors impact the quality of images, such as the display, contrast, dynamic range, resolution. The iScan2 addresses all of these factors to generate the best outcome possible. We know that this will facilitate an accurate and sound diagnosis.
After exams, the iSacn2 is safe to be washed under running water. The tight-fitting casing protects the "heart" of the machine against water and dust particles. Due to this, the ultrasound device will last long even under heavy conditions and makes it easier to comply with biosecurity requirements.
The system includes:
ultrasound scanner with probe
battery
battery charger
transport case
data transmission cable (to an external memory unit)
printed quick reference version of User Manual
complete e-version of the User Manual
Display modalities:
screen
google
image rotated by 90 degrees to the left or right
image rotated by 180 degrees
Grayscale: 256 degrees
Gamma: 8 settings
Display Modes: B Mode, B+B Mode, B+M Mode
Image management:
– Freeze (image freeze)
– Dimensioning
– Zoom 60-200% with 20% increase rate
– Saving to the internal memory
– Exporting to an external storage device
Measurements:
– distance
– surface (based on 2 measurements)
– volume
– netting
– age tables (Cow CRL, Cow BPD, Horse DSG, Horse DO, Sheep CRL, Lama BPD)
– backfat + muscle
Data saving and storage: data saving and storage image with cine loop measurements (256 frames)
Image storage: 200
Cine loop storage: 200
Probe:
– broadband probes, multifrequency
– linear rectal 7.0 MHz (from 4 to 9 MHz)
– active field = 60mm
– 128 elements
– range up to 15 cm
– broadband probes, multifrequency
– convex rectal 5.0 MHz (from 3 to 7.5 MHz)
– radius = 61.2 cm
– scanning angle = 64
– 128 elements
– range up to 25 cm
Probe attachment type: hardwired
Screen: 7.0″ diagonal, IPS LCD LED, 800×480 px
Continuous operation with full-charged battery: up to 7 hours
Charging time: 4 hours