Vetel and Magnus Magnetica Partner to Provide Cutting-Edge Electromagnetic Physical Therapy to More Equine Veterinarians
Sara Esposito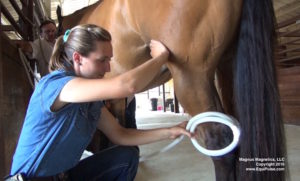 San Luis Obispo, California – Devoted to serving the health needs of animals, Vetel Diagnostics and the Vetel Group of Companies announce their partnership with Magnus Magnetica LLC, an internationally recognized provider of the EquiPulse® line of pulsed electro-magnetic therapy devices (PEMF).
Since 1999 Vetel has offered a complete variety of diagnostic imaging modalities for today's veterinarians. With an expanding product offering that includes superior radiographic systems, thermography cameras, and ultrasound systems Vetel is excited to announce the expansion of its therapeutic product line with the EquiPulse® PEMF therapy system.
EquiPulse® PEMF devices offer a non-invasive, drug-free and effective way to treat injured ligaments, tendons, muscles or bone by increasing blood flow and reducing edema thereby enhancing the healing process. This proven technology has been accepted by the Fédération Equestre Internationale (FEI) for use at its international sanctioned events.
Vetel's president, Dr. James Waldsmith, has recently voiced his commitment regarding tools for physical therapy in veterinary medicine; "[Vetel] has long realized the need for pain relief and enhanced healing for the musculoskeletal injuries that our diagnostic equipment identifies. We are particularly pleased with the Magnus Magnetica product line in that it offers a unique form of this therapeutic technology when properly applied to animals."
Magnus Magnetica's CEO, Henry Siegel, spoke to this partnership as well, "Magnus Magnetica recognizes Vetel Diagnostics … as a top leader in the veterinary medical market. Vetel consistently delivers cutting edge diagnostic equipment and top-notch education to its customers. As a leading technology company in diagnostics," Siegel goes on to say, "Vetel is best positioned to provide our proprietary PEMF technology to licensed veterinary practitioners, staff and their clientele, for the betterment of their patients.  We could not have found a better partner."
About Vetel Diagnostics and Magnus Magnetica LLC
Born from the need to bring quality and value to veterinary diagnostics, Vetel maintains a perpetual drive to harness the digital world for the veterinarian. Combining the state of the art in imaging technology with the Metron™ AI-enhanced software platform, and dedicated to providing unsurpassed customer support, Vetel delivers simplicity, reliability, and precision to the daily lives of the veterinary practitioner. For full product offerings, click here.
Magnus Magnetica has been successfully treating the equine athlete since 2007 with its line of EquiPulse® PEMF devices. Leading the markets with the only high powered PEMF devices that have received Electrical Safety Certification as a medical device, each PEMF device is also FDA compliant for use on humans. To find out more about PEMF therapy and Magnus Magnetica, visit their website.