Vetel Diagnostics and Podoblock™ USA Cooperate to Offer the Best Imaging Hardware for Equine Veterinary Practices
Sara Esposito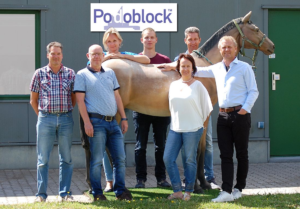 San Luis Obispo, California – Vetel Diagnostics and the Vetel Group of Companies continue their mission to offer the best in veterinary diagnostic imaging tools for the equine practitioner with their new partnership with Podoblock™ USA.
Podoblock™ USA is the world's leading manufacturer of high-grade imaging accessories suited to help veterinarians take superior diagnostic images of their equine patients.
Vetel has provided many industry firsts in veterinary digital radiography. Beginning by introducing the original veterinary wireless DR system, they are now the only veterinary technology company offering artificially intelligent image acquisition and processing software. Vetel's imaging products utility is advanced with Podoblock™ USA's comprehensive line of digital radiography, x-ray generator, and ultrasound solutions most suited to fit the needs of today's equine veterinarian.
Vetel CEO Dr. James K. Waldsmith offered the following comment, "We are very pleased with this new relationship that helps Vetel in offering the most comprehensive line of imaging accessories to meet all of the needs of the equine practitioner. Podoblock™ USA's internationally recognized reputation for quality and service is unmatched anywhere in the veterinary industry and we are very grateful to offer their product line."
Podoblock™ USA Partner and Managing Director Claudia Lucker remarked, "Podoblock™ USA was founded to give US veterinarians direct access to the extensive imaging accessory product line designed and manufactured in The Netherlands to increase radiology safety and make veterinary imaging easier. We are proud to announce our new partnership with Vetel, a leading and highly reputable diagnostic imaging provider. We look forward to working with the Vetel team and offer only the best to complement their advanced imaging product line".
About Vetel Diagnostics and Podoblock™ USA
Born from the need to bring quality and value to veterinary diagnostics, Vetel maintains a perpetual drive to harness the digital world for the veterinarian. Combining the state of the art in imaging technology with the Metron™ AI-enhanced software platform, and dedicated to providing unsurpassed customer support, Vetel delivers simplicity, reliability, and precision to the daily lives of the veterinary practitioner. For full product offerings, click here.
Podoblock™ USA is a provider of top-quality diagnostic imaging solutions for equine practitioners. All of their products are developed and made in The Netherlands with high-quality materials that are built to last a lifetime. "Impossible" is not a word that Podoblock™ USA is familiar with. They make it their mission to solve every imaging problem an equine practitioner can have, including custom solutions. To find out more about Podoblock™ USA and their extensive product line, visit their website.