NeedleView Arthroscope Suite for Metron
Biovision's next generation NeedleView Arthroscope
Micro-Invasive Arthroscopy for Diagnostics and Therapeutics
Suite offers veterinarians a visualization tool the size of an 18-gauge needle (1.2mm, 50% smaller than a standard arthroscope).  Perform diagnostic and therapeutic procedures that bring a value-added element to your practice.  The system combines essential features into a single compact and ultra-portable, all-digital visualization platform.
NeedleView Suite Key Benefits
Easy to Learn:  You just need to be comfortable with joint anatomy and can be taught in a wet lab or weekend workshop.
Minimally Invasive:  The NeedleView scope is the size of an 18-gauge needle. You can scope with just a local block and sedation.
Biovision's NeedleView™ arthroscope suite is AFFORDABLE and PROFITABLE for any size or type of practice, with most practices easily able to recoup their investment in 12 months or less.
How Profitable?
Estimating Conservatively:
2 procedures per month at $700-$1,000/procedure from diagnostic first looks
Additional $350-$500/procedure from post-treatment and/or confirmatory second looks
Income from therapy and/or surgery from your own clients or referrals
The system integrates seamlessly with Metron™ software so you can have all of your images in one organized location.
---
•  Small Animal – Elbow l Hip l Stifle l Shoulder
•  Large Animal – Carpus l Coffin l Fetlock l Navicular Bursa l Stifle l Cervical Vertebrae l Hock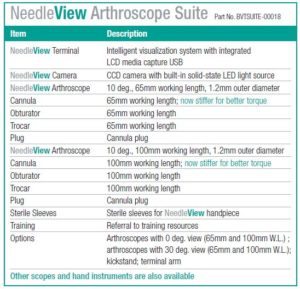 Veterinarians around the world are researching additional diagnostic applications and regenerative procedures.