ENDURO HD Generation II Wireless Digital Radiography
Excellence in High Definition
Vetel, an early leader in High Definition (HD) digital radiography, is proud to offer the industry's cleanest image with the Enduro HD. Paired with Metron 8™ Software, this American-made panel provides a distinctly advanced level of diagnostic detail and has proven itself as a supreme equine imaging solution.
Lightest weight HD panel – Stop lugging your system around
Drop tested to 70 cm – Peace of mind while you work
Highest definition imaging – 100 micron pixel pitch – Best spatial resolution on the market means a superior image
All systems come with ruggedized lap top – Reliable equipment is worry-free
Enhanced user experience with full touchscreen functionality – Automated exposure technique and positioning guide provided for every image
Lumina™ III Image Processing – New levels of clarity 
Fastest from boot up to image acquisition – One mouse click to begin taking radiographs
Highest MTF and DQE available
Available in two sizes – 10″ x 12″, and 14″ x 17″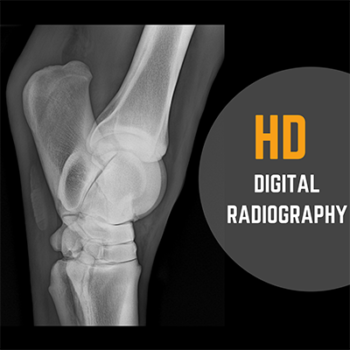 Vetel DR systems generate a hell of a lot of income. They understand the veterinary practice, feels like somebody is on my side, not a salesperson.